Couples and Relationship Readings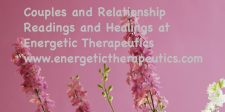 Available Now: Intuitive Relationship Readings!
Explore your heart chakra and your self-affinity space. What are you co-creating with your partner? What past lives have you shared? What kind of relationship do you want to create? What information do you want to become aware of that is blocking you from manifesting your dream relationship?
To book a relationship reading on Genbook:
1) Individual: Schedule one session of intuitive relationship reading.
2) Couple: Schedule two sessions of intuitive relationship reading. These appointments must be back to back (disregard the 15 minute break in between end and start times).  Please input one person's information on the first session, and then input the other person's information on the second session.  This way you will both receive all pertinent information, including confirmations and reminders.
3) Contact angel@energetictherapeutics.com to bypass online booking and schedule directly.